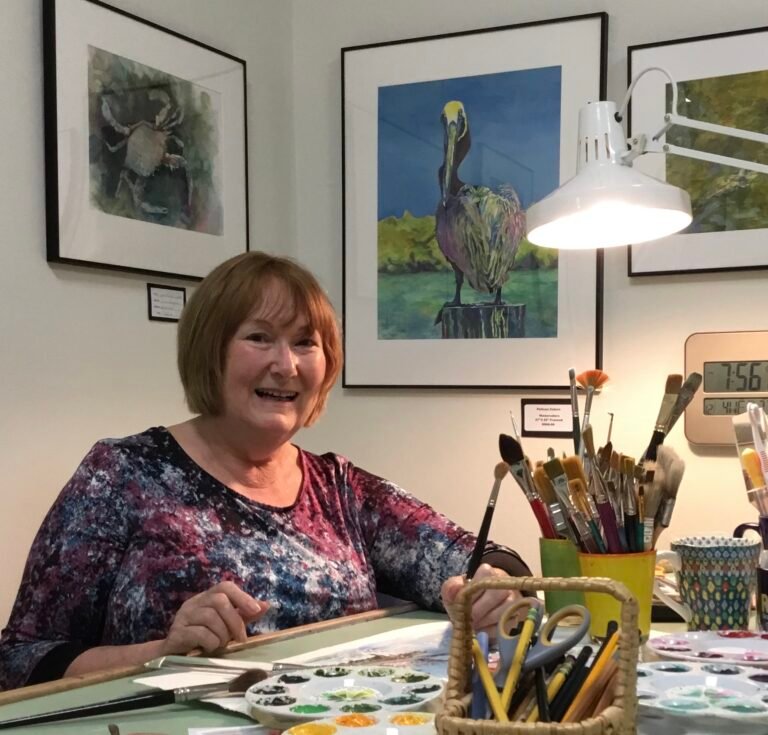 Jane Huggins is a dedicated watercolor artist, working professionally for over 20 years.  She strives to protect her hard-earned work by using all archival materials.  
Naples, Florida has been her home for more than 8 years.  Jane is focusing on painting and teaching in her own private studio.  An artist  spends many hours working in solitude, but she is very aware of the benefits of working in artist communities. 
Her studio is part of a wonderful gallery called Art2Amaze with up to 12 artists that are present, during busy season, working together to display their art, put on events and open the gallery to the public.  The gallery is part of the Naples Art District, which is comprised of several studios and galleries representing over 100 artists.  It is definitely a village of inspiration.  
Being born in 1951 as a middle child Jane was never bored.  She had many interests, but her creativity and curiosity has always directed her activity.  Her parents nurtured her interests with art supplies matching whatever she wanted to create. 
Sewing, needle work, singing, writing music playing the clarinet, guitar and now piano, have always kept her busy.  gardening, cooking, and decorating numerous homes have all been creative endeavors. 
Working with theater groups as scenery painter and but also sang and acted in the same plays.  The sets she worked on won awards.  Later she was a professional clown creating her costumes props and stories.  She taught clowning to others and headed up a clown alley (club).
Being in Girl Scouts lead to a love of nature and being outdoors. She also learned she was good at teaching in scouts, becoming a camp aid, counselor and then a leader.
She quit band to take art in high school.  Although her education goal was to become an elementary teacher she too art as a second major in art.  Jane Received a Bachler and Master's degree in both areas, graduation with honors.
Jane married and was surprised that her first teaching job was to take a two year job to replace the present art teacher who took a principle's position.  I never occurred to her to become an art teacher.  She taught in an equipped art room, teaching kindergarten thru 5th grade.  Working with the music teacher the designed and constructed set and props for school plays.  Later she took a position as third grade teacher, when the art teacher returned.  She love teaching read and math and used her art skills to make her room an exciting environment.
At the same time she was designing and painting sets for a local theater group, which won awards.  She also sang and acted in the plays.